Stories From Our Families
Our families are why we do what we do. Some of our guests have shared their thoughts and opinions with us over the years. We wanted to share them with you to show how much of an impact your donation can have on their lives.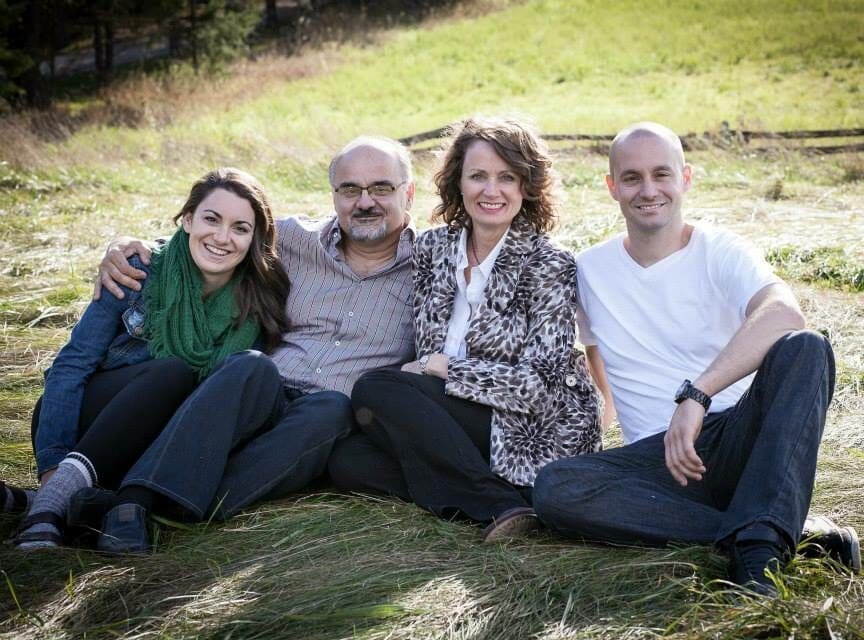 Even though my stay isn't over, I want to thank the staff and volunteers for all the wonderful things you have done. The stress of being away from home has been eased by everyone at the Mark Preece House. The accommodations are awesome. My husband and I will forever be grateful for this place and its staff. Thank you.
Elaine B. & Viorel C., Thunder Bay
My husband, Bill, stayed here in May 2013 when I underwent spinal surgery. His 76th birthday was spent here, an environment he described as "beautiful" and "comforting" – no exaggeration, as I am finding while he battles brain cancer in Hamilton General's ICU. Our children are with us, but staying elsewhere, due to availability. They, like us, are well-travelled and agree that out of five stars, Mark Preece House rates a six. In no small measure, your excellent ambiance reflects the caring attitude and sterling aesthetic sensitivity of staff, managers and planners.
Thank you, Sharon D., St. Catharines
"There is no place like home…" except the Mark Preece Family House. Many thanks – the staff went out of their way to meet our needs and care for everyone – the donation of food from local restaurants and families was amazing. In many ways, it was one of the most memorable Christmases we have had as a family. We have experienced support, TLC and were given the gift of community… so rich and rewarding to remind ourselves of what is important in life – and how random acts of kindness and care make a difference.
Every detail was considered at the Mark Preece House. The stockings on our door were a great surprise and the spirit of Christmas is alive! We look forward to initiating fundraising in Thunder Bay so Mark Preece House can continue to support Thunder Bay families. One day we hope to have something similar in Thunder Bay.
Arrived in Hamilton last minute for my sister, Nancy. Away from home and my family, this house became my home and all here were like family. Thank you.
Michael G. Nestor Falls, ON
Thank you to ya'll for what you have done and continue to do.  Myself and my family's gratitude to all the staff and volunteers.  Kindness can never be repaid.  Thank you for generosity.
Gianni S., Dallas TX
Thank you for making this a home away from home.
Kim R., Thunder Bay, ON.
First and foremost I must say how grateful I am that I did not lose my husband this week.  How comforting it has been knowing that I was within walking distance from him.  What a haven it has been to come here every night.  Thank you all for everything.  I promise to pay it forward.
With gratitude, the family of Angelo D., Pt. Colborne, ON
It is with overwhelming appreciation that we write thank you in this Book!  Words are not enough to express the comfort this house has brought to our family. If our arms were long enough, an embrace felt around the centre house, staff included is in order. Thank you from the depths of our hearts (our newly restored one as well!)
I approached the MPFH expecting only a place to lay my head between trips to the hospital. When I came inside, I was blown away by the beautiful renovation and tasteful décor. It only got better from there.  The staff and volunteers are incredibly helpful and supportive.  Many thanks for easing a difficult time.
Nieki, Atlanta, USA
I cannot express how impressed I am with The Mark Preece House. The staff are wonderful and very accommodating. This place is truly a home away from home. In fact, I wish my home was as nice. The comfort, the décor and hospitality are way beyond any other experience. I was so fortunate to be so close to the hospital while my sister had her open-heart surgery. I could come and go so easily. Thank you to all the staff and volunteers that I have met. You are all so kind.
Isabel W., Thunder Bay, ON.
Our stay here during our time of grief was much more than I could ever have thought. I want to say THANK YOU for your kindness and making it just like home. Thank You.
Christine B.
We would like to thank everyone at the Mark Preece Family House. We all are very grateful to have had had such a great place to stay. You all have made our stay very nice. Everyone has been great. It was a shock to see my brother on life support, and finding a place like this was truly calming, soothing and knowing that we are close by. I wish the Mark Preece Family House all the best. The staff have gone out of their way to make our stay a good experience. It means a lot that others care for people in need. My brother Bill is sitting up now – no more life support or oxygen, and being moved to a regular room. We will be making a donation to the MPFH.
Irene H., Blue Mountain, ON
My parents drove seven hours to be here and are 82 and 83 years old. We all are from out of town. AGAIN, MANY, MANY THANKS. Words cannot express how we feel in this difficult time in our lives.
Irene and Bill  (parents), Nancy (sister), Colleen (sister), Stewart (brother-in-law), Jeff & Marisia (family), Tiffany, Sarah, Austin, Aaron, Gloria  (wife); Grandchildren – Abe, Erica, Fred Jr.,  Gisselle.
I have really enjoyed my stay here. It is a wonderful place. The rooms are so comfortable.  It is like a lavish hotel for me and the food was magnificent! I am so glad that I was made aware of this place. It was a god-send. My thanks goes out to the staff and volunteers.
Shirley W.  Jackson's Arm. NL
Thank you so much for your kindness! We'll always remember all of you and your special House!!!
Elisabetta, Franco and Davide,  Poppi Maritano, Italy.
Thank you for making this our home away from home during this hard time. We couldn't ask for better staff and other house members. So friendly and nice. You made our stay as relaxing and stress free as possible. Such a beautiful house. Thanks again.
Fort Erie ON
A wonderful oasis surrounded by worry, fear and the unknown. The Mark Preece House cannot provide a better place to be. It lends true meaning to volunteerism. A Wonderful Place. Thank you.
Jim & Leigh M., Atikokan, ON
This has been a wonderful haven for us. The Home goes above and beyond our expectations. We've had more time to concentrate on Lawson's health and recovery without worrying about mundane matters. Thank you so much for your care and concern. God bless.
Marilyn, Heather, Karen, Ken, Larry, Barry, H.
In life there is Heaven. Away from Home there is Mark Preece House with all its Angels. For our family, this house is above a 5-star hotel – with all its kindness and caring.
Niagara Falls, ON.
Wonderfully comfortable place to be. So grateful to be welcomed with my dad, brother and sister.
What a place! Everyone has been so helpful and kind. The overall comfort I felt made the trying situation at the hospital not so bad.
With sincere appreciation, Rose C., Calgary, AB
I want to thank you for this stay at the House. It was really comforting. I felt welcomed. This is a great place. Thank you.
Iris B., Kitchener, ON.
Thanks so much for a place of retreat when life seemed so chaotic.
Sincerely, Roxy & Don L., Waterloo, ON
It is comforting to know that there is a "Welcome" waiting in Hamilton whenever I need to visit my son, Ron, recovering from a traumatic accident over a year ago. He is minutes away from the Mark Preece Family House and that enables me to see him whenever I want while in Hamilton. This is a great facility run by Caring people! Thank You!
Mary N., Halifax, NS
Many thanks to the staff of Mark Preece Family House for the hospitality and friendliness. This truly is a place of rest when personal ailment hits our beloved in the hospital. Thank you!
Wally K., Sandy Lake First Nation, Northwestern Ontario
To all the wonderful staff and volunteers at the Mark Preece House: your compassion and sincere kindness make a huge difference for all the families who are able to stay here. At this time, our son isn't out of the danger zone, but we are hopeful and thankful to all of you who made things easier. Thank you.
Latchman and Shelly M., Trinidad
This was an absolutely amazing place filled with amazing people. We are so grateful to have been able to go through our experience knowing that each night we'd come back to our "home away from home". Thank you, thank you, thank you!
Sudbury ON
Most wonderful place to be in the world at a time when you are so frightened. Thank you and God bless you for making me feel safe along with my whole family.  Thank you.
Carolyn L., Fort Erie, ON
I would like to thank everyone involved with this place. The staff was extremely pleasant and helpful. Between the staff and the very comfortable room, my stay here was a good memorable experience. The delicious meal they provided just added the crowning touch. During this difficult and stressful time, your help will always be greatly appreciated.
Thank you, Rob G., Frankford, ON
Thanks so much!  What a beautiful place!
From: Niagara Falls.  What an awesome place from home! You made us welcomed with opened arms. Thank you from the bottom of our hearts.
Linda, Diane and family!
Thank you so much to all the volunteers and staff who truly make this house, a home away from home. From the bottom of our hearts, thank you, thank you, thank you.
Rachel and Gary W., Clinton, ON
This unforgettable experience of kindness soothes the human spirit. Thanks for this true safe haven.
Melody and Dan R., Welland, ON