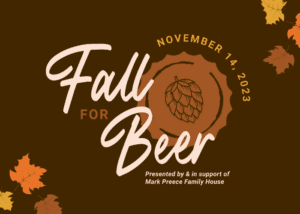 Hamilton, ON, October 18, 2023 – After a four-year hiatus, Fall For Beer returns on Tuesday, November 14, 2023 at The SHED, Shawn & Ed Brewing Co. (65 Hatt Street, Dundas). We are looking forward to welcoming our friends and supporters back to this event for its eighth year.
Come hungry for Fall For Beer 2023, a great evening of locally-harvested food and craft beers at Shawn & Ed Brewing Co. The event runs from 7:00pm until 11:00pm and features a Silent Auction. We have some great items lined up including Leafs Tickets, hand-made items, sports memorabilia, a sunset sailing charter with Niagara Nautico, and a pair of tickets to the 110th GREY CUP in Hamilton! We want to make our auction even better so we are looking for more items so please let us know if you would like to donate.
All proceeds from the event go to fund The Mark Preece Family House's operations. An autumn food and beer event like Fall For Beer carries on our wonderful tradition of serving the best in local foods and beverages with a refreshing difference. Tickets are $100 each and are available at https://markpreecehouse.ca/event/fallforbeer2023.
The event will include remarks at approximately 8:00pm from a former guest who will talk about his stay and what The House has meant to him and his family.
Date: Tuesday, November 14, 2023
Time: 7:00pm to 11:00pm
Location: Shawn & Ed Brewing Co., 65 Hatt Street, Dundas, ON